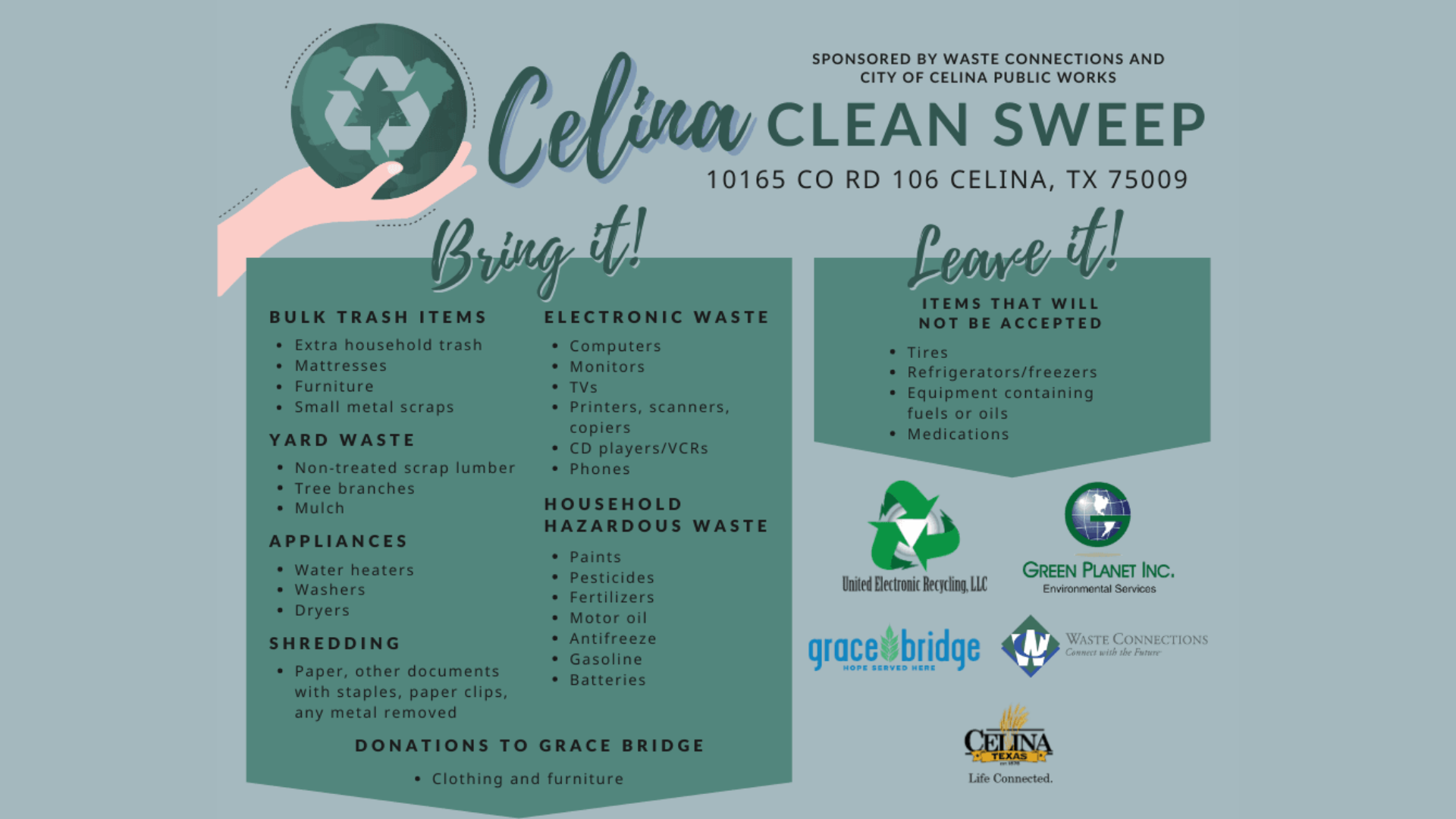 Spring is right around the corner, and so is your home's annual deep clean. Not only is spring cleaning a great way to reset, but this yearly chore also helps you get rid of any accumulated dust and unwanted items before the season reaches full swing.
Discarding unwanted items in your home from top to bottom may never be effortless, but the project becomes more manageable when you're a part of the upcoming Celina Clean Sweep.
Read on to learn more about the history behind spring cleaning, its importance, and how to partake in the Celina Clean Sweep Event. \
Spring Cleaning 101
Spring cleaning is frequently associated with significant anniversaries in several religions. Jewish faith members clean their homes and remove yeast bread, also known as chametz, forbidden during Passover, which occurs in March or April and commemorates the Israelites' deliverance from slavery in Egypt.
Catholics also observe this practice, reserving the three days following Palm Sunday, commemorating Jesus' triumphal entry into Jerusalem, for a thorough cleaning. Great Lent in the Eastern Orthodox Church begins with "Clean Week." During this time, it is customary for followers to go to confession and clean the house.
On the first day of spring, Iranian families celebrate Nowruz, also known as Persian New Year, by cleaning and purchasing new outfits to welcome spring. This practice, known as askhāne-takānī, or "shaking the house," cleanses the home of misfortune and evil and prepares it for the regular New Year's visits.
Why Is Spring Cleaning Important?
Whether or not you engage in spring cleaning, you probably still know that it's a thing — kind of like New Year's resolutions. But why?
It keeps you active
Carrying boxes of old books. Cleaning the walls. Moving furniture around. Cleaning can be a serious physical task. However, the physical benefits of this continuous, low-intensity movement include a healthy heart and body.
If you want to burn even more calories while cleaning, consider listening to music while you sweep and wipe down surfaces—this may add a little groove to your task!
You feel more peaceful
A tidy and organized home is a place where you know where everything is, helping you feel in charge. Peace of mind comes with having a beautiful environment to wake up in and return to at the end of the day.
It reduces home hazards
Remember the scene in "Home Alone" where little Kevin McCallister scatters a slew of toy cars across the floor in the hopes that the criminals robbing his home will slip on them? That can happen in your home, too!
If your floor is clean and uncluttered, you're less likely to trip and tumble over stray objects. If you're looking to declutter your home as part of spring cleaning, discarding or donating several unused home items at the Celina Clean Sweep is the way to go.
It improves focus and mood
Trying to shake off your winter blues? A little spring cleaning clears the mind and fosters positivity. It's an excellent approach to decrease stress by boosting the likelihood of having a positive attitude and thinking ahead.
Be A Part of the Celina Clean Sweep on April 1st 
Whether you want to donate personal items for charity or discard home items for decluttering purposes, the Celina Clean Sweep, sponsored by the Waste Connections and City of Celina Public Works, is the place to do so.
The 2023 city clean-up day will be at the Public Works building located at 10165 Country Road 106 Celina, TX 75009 on April 1st, 2023, from 8 AM to Noon. Residents can discard hazardous waste such as paint in liquid form, thinners, paint strippers, lawn and garden chemicals, fertilizers, etc.
Among the items expected for discarding are large pieces of furniture, mattresses, box springs, and other large or bulky household items. Construction waste will not be accepted. In addition, this year's clean-up day is open for ALL Celina residents—please bring a current water bill as proof of residency.
There is something special about coming together as a community to take care of your town. Becoming a homebuyer in The Parks at Wilson Creek means calling that community home!
Join our interest list to receive updates on available homes, neighborhood news, and upcoming events.
Image from The City of Celina: Click here