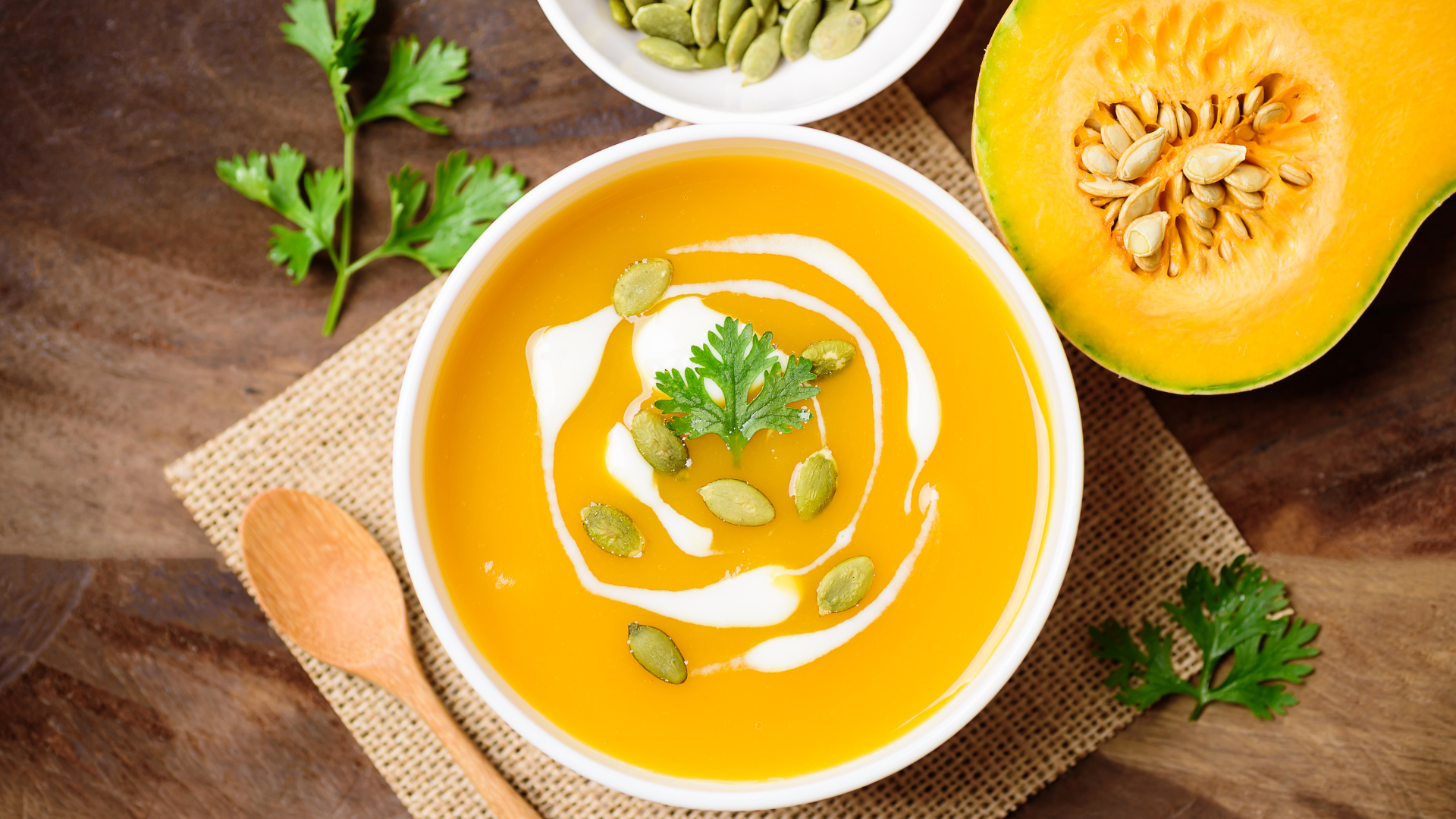 We have fallen in love with fall recipes — we know you will, too! You can use in-season goodies like apples, pumpkins, and squash for just about any meal or snack. We suggest muffins for breakfast, soup for lunch, and chicken for dinner. These delicious dishes are so good that even the pickiest eaters won't leave a crumb behind.
Healthy and Sweet Breakfast
Muffins for breakfast can be tasty and healthy at the same time! These pumpkin muffins have it all: oats for fiber, protein-packed Greek yogurt, maple syrup instead of sugar, and—wait for it—chocolate! The combo of pumpkin and creamy chocolate is to die for deliciousness and checks all the boxes: gluten-free (no flour), high protein, and low sugar. They also satisfy a sweet and savory craving, thanks to sea salt sprinkles. You only need eight ingredients and about a half hour to make these. Not in the mood for chocolate? Inconceivable! But if you insist, substitute chopped nuts, dried cranberries, pistachios, or roasted pepitas to switch up the flavor.
Hot and Savory Lunch
Don't you love how hot soup warms your body and provides comfort? Well, this one definitely qualifies as comfort food. Make it ahead and pack for lunch with some crispy whole-grain crackers. Butternut squash soup is simple but creamy and delicious! It has ginger, garlic, fresh sage, and rosemary for a special savory flavor. You'll love how the creamy texture warms up your entire body. It makes you feel like fall! This soup could be your go-to stress-buster for hectic days at work. To add some crunch, toss on toasted pepitas or croutons.
Hearty and Zesty Dinner
Winner, winner chicken dinner! We found two winners your whole family will enjoy. This Cozy Wild Rice and Orzo Chicken Soup is a hearty one-pot meal that's quick and easy. Just throw all the ingredients into a slow cooker or Instant Pot, set it, and eat when it's time for dinner. It's simple yet completely satisfying and warming on cool nights. You'll need wild rice, herbs, orzo pasta, chicken, carrots, celery, and a few kitchen staples. Amp up the flavor by adding a little browned sage butter and shaved Parmesan on top before serving. The browned butter takes this soup to a higher level of deliciosity.
Finally, for chicken that's zesty and creamy, try Apple Cider Chicken. It's super simple with a few ingredients that blend for a perfect zest. The combination of Vidalia onion, Granny Smith apple, garlic, thyme, bay, and apple cider produces the most delicious and tender chicken with a creamy texture. Serve with mashed potatoes and balsamic-glazed Brussels sprouts, and you'll be proclaimed the new Pioneer Woman.
You'll love making comfort food in a beautiful and spacious kitchen in your new home at The Parks at Wilson Creek. With our team of talented builders, your dream kitchen is waiting for you here in Celina — start browsing now!