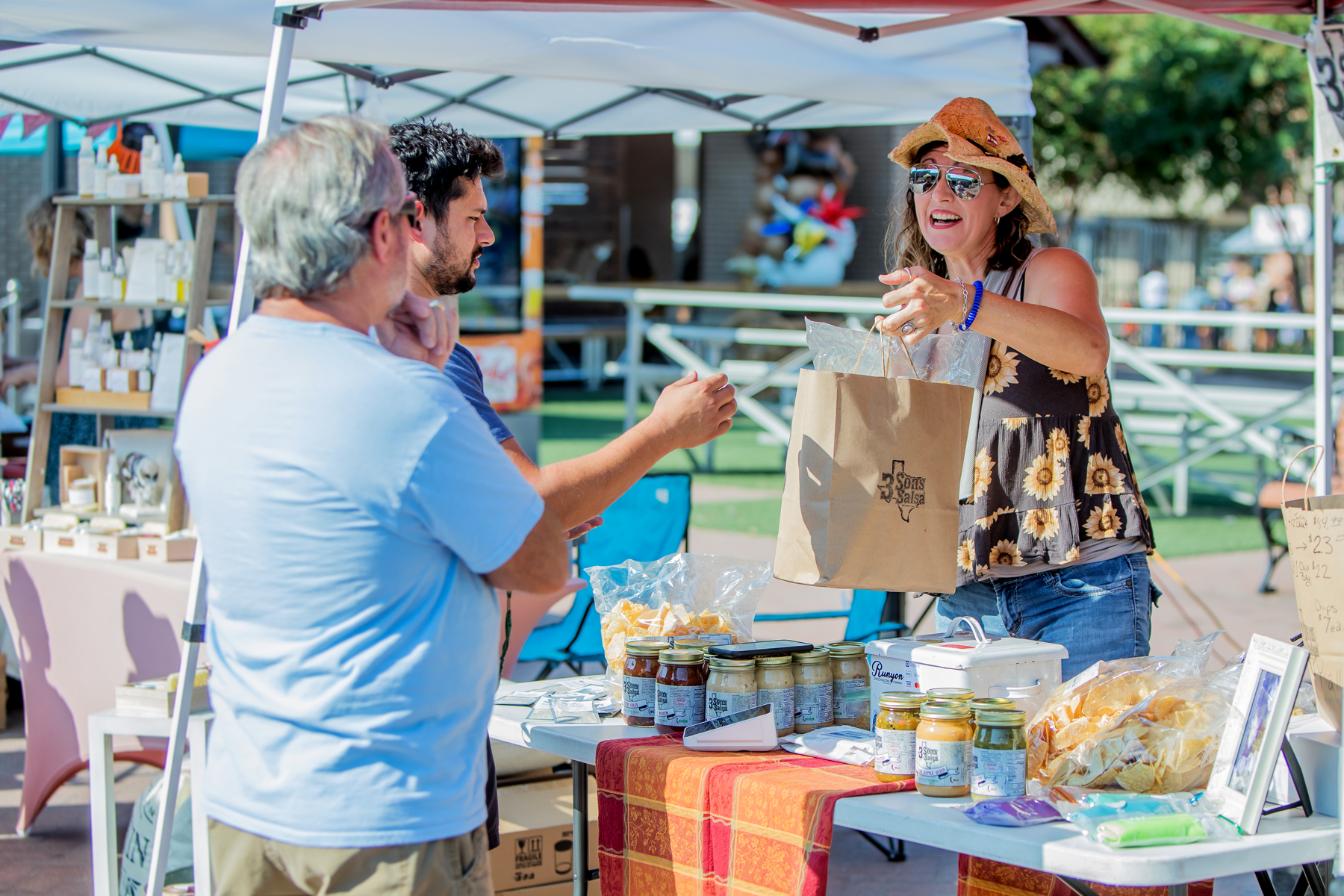 Where's the BEST place to spend your Friday night in Celina, Texas? If you want to go where the locals go, it's a sure bet you'll fall in love with Celina's Friday Night Market. Here's everything you need to know to plan a visit to this monthly event that the locals love. 
History of the Friday Night Market
The Celina Friday Night Market is a recent development in the history of our charming town. In 2013, the Celina Ladies and Friends group started working on ways to bring a farmer's market to the community. Michelle Baggett, one of the founding members, explained, "My dream is that we can provide residents with opportunities to purchase locally grown produce and handmade products from local artisans. Farmers could educate consumers on the health benefits of buying fresh and nutritious ingredients and offer delicious and hopefully different ways to prepare these foods."
The first Friday Night Market opened on June 6, 2014 with 12 vendors. Today, it hosts over 60 vendors, and continues to strengthen its bonds in the community with local businesses and producers. 
2023 Market Schedule
The 2023 dates are as follows: 
March 3rd

April 14th

May 5

June 2

July 7

August 4

September 1

October 6

November 3
You can also RSVP on the Celina Friday Night Market Facebook page for event updates. It's free to attend, and you can enjoy delicious food, live music, and support your local businesses and farmers.
A Decade of Deliciousness
Celina's Friday Night Market has been in full swing for almost a decade now but the mission and vision for the market hasn't changed. The goal is to provide locally-grown, fresh, high-quality produce and handmade goods from local artisans in a central location: Celina's Historic Downtown Square. They welcome diverse offerings from artisans and producers, creating a connection to the community like no other. Local artists and musicians are also welcome to share their talents. In short, the Friday Night Market is THE place to showcase your goods, connect with your neighbors, and enjoy the wonderful things that our hometown has to offer.
Proud to Call Celina Home
The moment you set foot in the Friday Night Market, you'll know that Celina is a town unlike any other. The market is certainly not the only thing that our charming little corner of Texas has to offer—Celina is proud of its heritage and welcoming to everyone. You'll find a close-knit community here of neighbors helping neighbors, all surrounded by the beauty of nature.
That's one of the many reasons why we're so proud to call Celina home, and why our community, The Parks at Wilson Creek, will offer residents an ideal location. From miles of trails, fishing ponds, and a 100-Acre city park and pickleball court, everything that The Parks will offer is planned to provide families of all lifestyles with everything they could want. Contact our team to start the journey to your dream home today.