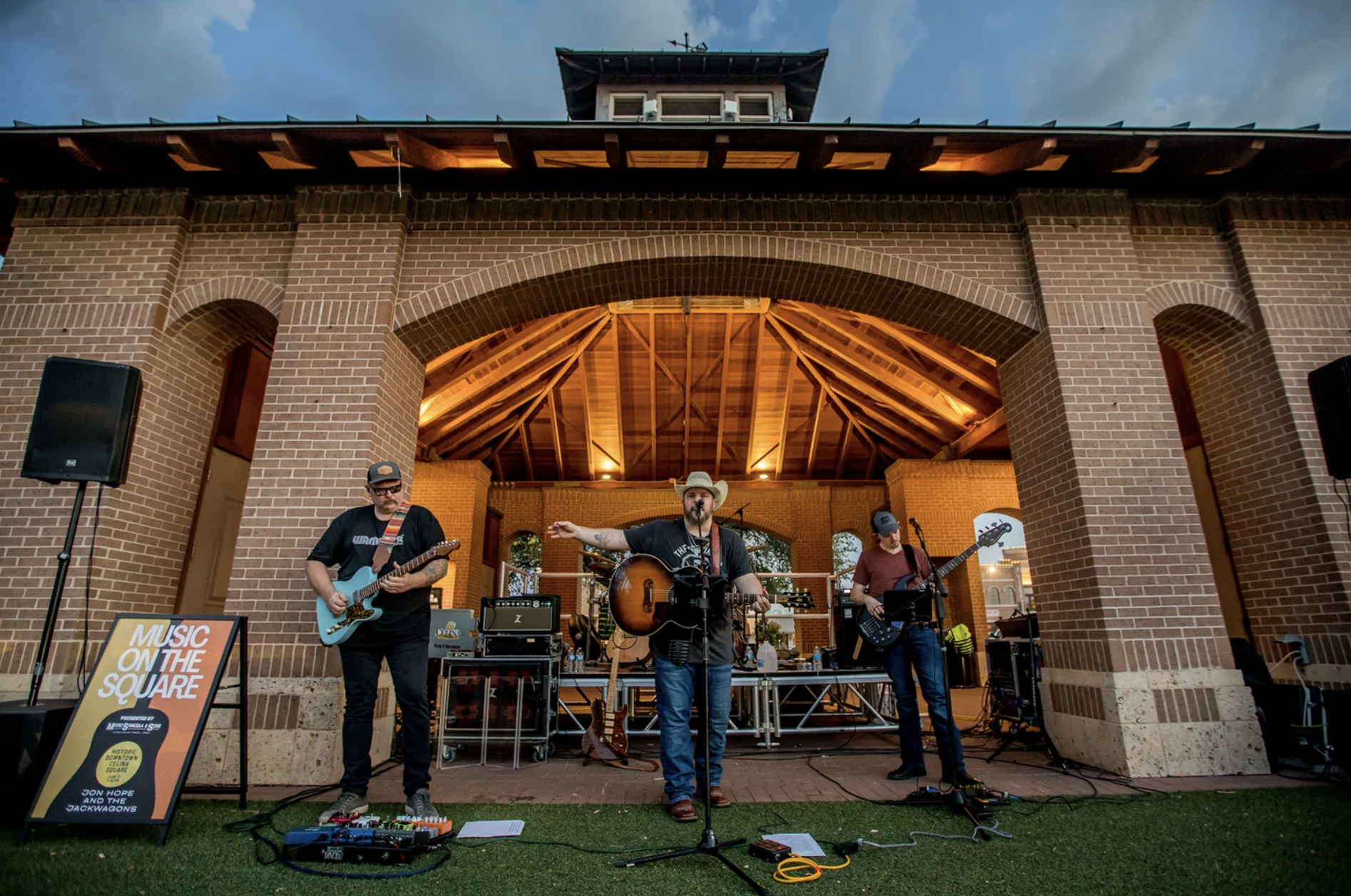 You are invited to swing and sway to the vintage/retro sounds of Aurora Bleu at Music on the Square in historic downtown Celina! The annual event includes two different music genres on two Fridays this year, May 19 and July 21. Music on the Square is FREE—you can enjoy the entertainment along with the sights, sounds, and tastes of Downtown Celina!
A Musical Tradition
Music on the Square is part of Celina's Main Street Program, which combines public and private resources to offer free events. The program promotes cultural and economic vitality by bringing locals together to enjoy Celina's historic district at special events.
Sinacola, a local employee-owned construction company, sponsors the 2023 Music on the Square shows, which help the city revitalize and preserve its heritage while creating lasting memories for residents. The event brings different types of music to the city each year. Last year's event featured country, classic rock, and Jimmy Buffet-style tropical rock.
The downtown Celina Historic Square is attractively landscaped and has a mix of businesses and storefronts that are creative and inviting. Downtown serves as a community hub, with many activities and events scheduled each year.
First Show Features Unique Sound
The May 19 concert features local Dallas-Fort Worth band, Aurora Bleu. This band has rocked audiences since 2009 with its vintage/retro blend of styles that creates a unique sound. They combine music from across decades into their mixture of big band, swing, jump blues, and jazz. Mrs. Aurora's powerful vocals lead their vibrant performances, enticing listeners to get up and dance.
Second Show Honors Rock Supergroup
Sing along to your favorite Journey tunes at the June 21 show with the Dallas-based musical tribute band ESCAPE. All ages will love the classic favorites! Performing since 2006, ESCAPE is North Texas' longest-running Journey tribute band.
Dance, Sing, Eat, Drink, and Be Merry
What should you bring? We're glad you asked! You can bring chairs, blankets, dancing shoes, and even leashed pets! Come hungry because Celina's downtown shops and eateries will be open. Concertgoers are welcome (and encouraged) to order take-out from the local restaurants and bars to enjoy during the show. The Square's sidewalks make moving through the area easy and fun.
Enjoy the shows at 302 W. Walnut St. in downtown Celina. Visit the Life in Celina website for more information about these and other area events.
Be Close to All the Fun at The Parks at Wilson Creek
The Parks at Wilson Creek offers easy access to local events and celebrations. Living here is ideal for those who want to have it all; natural surroundings, modern homes that mesh with nature, and amenities that encourage activity.
Choose a high-quality, stylish home from David Weekly Homes, Highland Homes, Perry Homes, or Tradition Homes to stake your claim in this fabulous community! Explore our website and sign up for community updates to stay in-the-know in everything The Parks at Wilson Creek has to offer!
Image Courtesy of: Click Here.